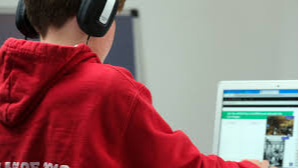 Frequently Asked Questions
While we are excited to welcome our students back for full-time in-person learning for the 2021-2022 School Year, Delhi Unified School District will also offer an alternate option for students who have an identified need to continue with remote learning.
Independent study is NOT the same as distance learning. Independent study means students learn through instructional videos virtually and complete all assignments on their own at home.
An independent study program is a voluntary option. If you are interested in enrolling your child in the independent study program for the 2021-2022 school year, please contact your child's school who will tell you the next steps. Please note that submitting interest in Independent Study does not mean that your child is automatically enrolled in Independent Study.
+ How is the DUSD Independent Study Program different from distance learning?
DUSD plans to resume full-time in-person learning when school starts on August 3rd. Students will be back in the classroom, five days a week, for the full duration of the school day.
Students will receive video virtual instruction and complete all assignments independently at home. Teachers will monitor student progress, grade assignments, hold virtual office hours, and schedule individual virtual meetings as needed.
+ Will my child be required to actively participate daily?
Yes, students are required to participate and complete all independent study assignments daily. Students who fail to participate, turn in assignments on time, or adhere to the terms and conditions set forth in the Learning Agreement will be evaluated to determine whether an independent study meets the student's academic, social, and emotional needs.
+ What program/company is providing the online curriculum?
DUSD has partnered with Acellus, a virtual education company, to offer standards-based curriculum and virtual instruction to independent study students.
+ What kind of commitment do families need to make? How can I help my child succeed?
The parents/guardians/caregivers are responsible for providing a quiet learning space and ensuring that their children actively participate, complete assignments, and attend virtual meetings with their teachers daily.
+ What supplies/resources do we need to participate in the program?
The District will provide the technology and materials needed to participate in the program.
+ Can my child return to their school for in-person learning at any time?
Yes, students may return to their home school for in-person learning at any time. Please contact your child's principal to request a return to in-person instruction.
+ What is the process for applying for the Independent Study Program?
Contact your child's school to schedule a meeting (virtually, telephonically, or in person) to discuss DUSD's educational options and independent study expectations and requirements.
If you choose to enroll in independent study after the meeting, you and your child will have to complete and sign the Learning Agreement. Your child will then be registered in the Acellus Learning Portal. The IS Teacher or School Librarian will contact you to provide information on how the Acellus platform works.
If you have further questions about Independent Studies or the application process please call your child's school office.