Parents are the first defense in protecting their teens' from drugs and alcohol By the time they are seniors, almost 70 percent of high school students will have tried alcohol, half will have taken an illegal drug, nearly 40 percent will have smoked a cigarette, and more than 20 percent will have used a prescription drug for a non-medical purpose. (National Institute on Drug Abuse, 2014.) Our community is not exempt from these troubling statistics. Recently, it has come to our attention that some of our students may be participating in dangerous activities during the evening away from school that include drinking alcohol and perhaps even driving while intoxicated. Please know that we will investigate incidents that come to our attention. These investigations may lead to disciplinary actions that might include the involvement of the local authorities. Research shows that the fear of losing their parents' trust and respect is the greatest deterrent to adolescent drug use. Parents are the front line of defense in protecting their teens' developing brains from drugs and alcohol, so I encourage you to use the following 9 Practices that can reduce the chances of teen drug or alcohol use: Maintain a close relationship with your child during the teen years. Encourage them while offering appropriate levels of independence. Talk honestly with your teens about drugs and alcohol. For talking tips, read our ideas on the back of this page, or go to
www.drugfree.org
. If you drink, drink responsibly, and don't use drugs or alcohol to manage your stress. Drinking in excess around your children increases the odds that they will develop alcohol or drug problems. Lock up or hide your prescription medicines, and pay attention to use of non-prescription medications including cough syrup and mouthwash. Don't allow your teen to drink in your home with their friends or with you. Trying to teach teens how to "drink responsibly" has been shown to increase the risk of future substance abuse. Be aware of certain risk factors that may increase the risk of teen substance abuse. These include a family history of addiction or alcoholism; depression, bi-polar disorder, anxiety or ADHD; a lack of impulse control; or traumatic experiences such as bullying, severe illness or the death of a family member. Know your teen's friends, know what they are doing and what is important to them. Trust your gut about their friends, and keep in touch with their parents. Monitor and supervise your child. Know where they are and who they are with. Stay connected with school – academics and activities – as a finger on the pulse of your teen's performance, values, priorities and moods. Together we can collaborate to ensure that we protect all of our children and adolescents from alcohol and drug use. If you or someone you know needs support with this, please reach out to your site principal so we can coordinate support services. Thank you, Jose Miguel Kubes, Superintendent Delhi Unified School DIstrict

Our Hawk Branch finally reopens three days a week this week! We can't wait to share all the benefits of banking with a credit union at Delhi High for the 2022/2023 School Year! So stop by and see what all the ruckus is about Tuesdays & Thursdays from 2:30 PM – 4:30 PM or Saturdays from 9:30 AM – 12:30 PM. Don't forget to like and follow us on social media to stay up to date with all things Hawk Branch! Show of hands 🙋🏻‍♀️🙋🏻‍♂️ Who's already a member?! This branch is open to all MSEFCU Members in the surrounding area and curious students, staff, and faculty members, too.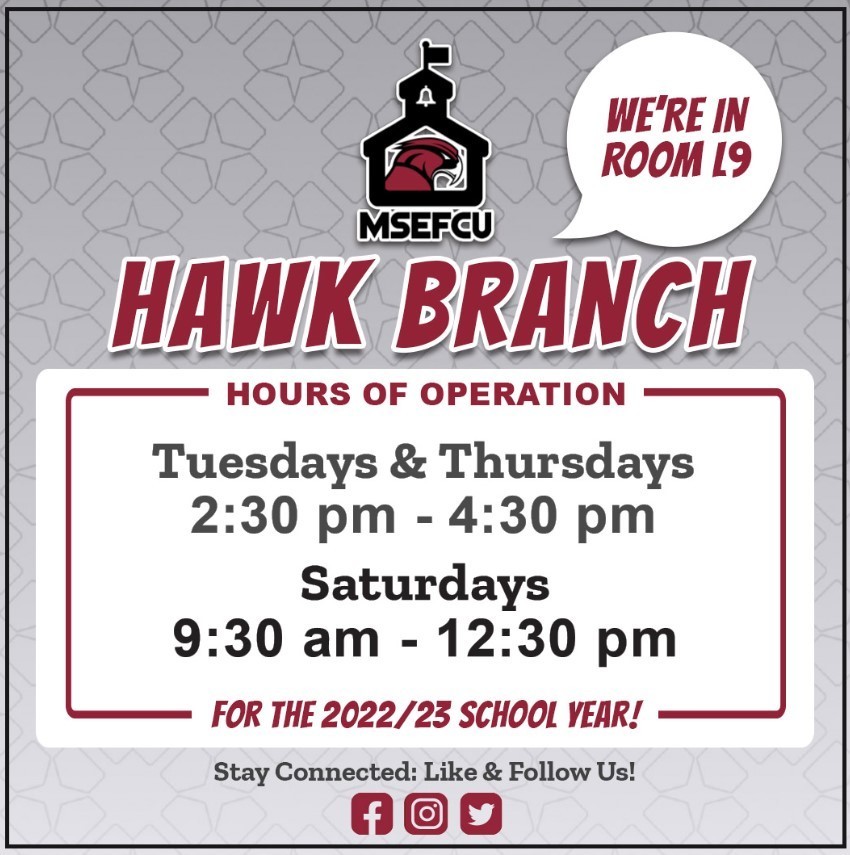 Our district offices and school site offices will be closed on Monday, September 5 and Tuesday, September 6.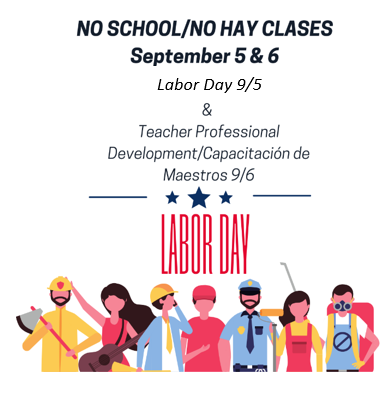 Congratulations to Aaliyah Chavez, our new Student Board Member. Aaliyah was elected by the Delhi High School students to represent them for the 2022-23 term. Welcome to the Team!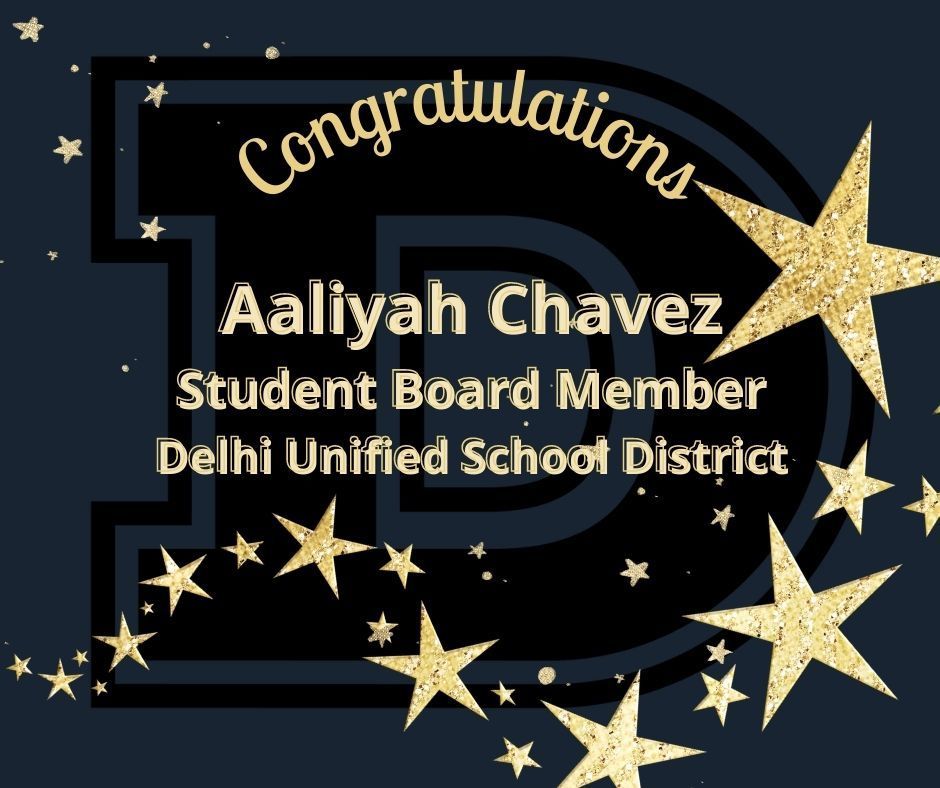 Delhi FFA is having a Drive Thru Chicken BBQ on Thursday, Sept. 22 Buy your tickets from any officers - $10 each

Safety Community Forum had its first meeting on Tuesday, August 9, 2022. Thank you to all our parents, community agencies, and staff that attended our forum. Select the http link to view the presentation:
https://5il.co/1gmv2
We hope you can join us at our next meeting on Tuesday, September 13 at 5 PM in the Sarah Clegg Room.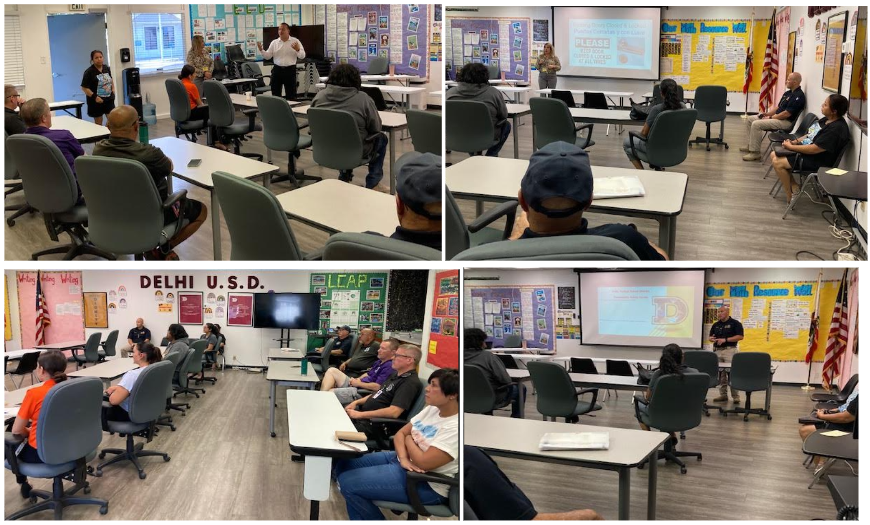 The Board of Trustees for Delhi Unified will have four spots up for election at the November 8, 2022 Gubernatorial General Election. Candidate forms must be completed and returned to the Registrar of Voters and Elections Office, 2222 M Street, in Merced by August 12, 2022 at 5:00 pm. La Mesa Directiva del Distrito Unificado de Delhi tendrá cuatro puestos para las elecciones generales de gobernador el 8 de noviembre de 2022. Los formularios de candidatos deben ser completados y entregados a la Oficina del Registro de Votantes y Elecciones, 2222 M Street, en Merced antes de 5:00 pm del 12 de agosto de 2022.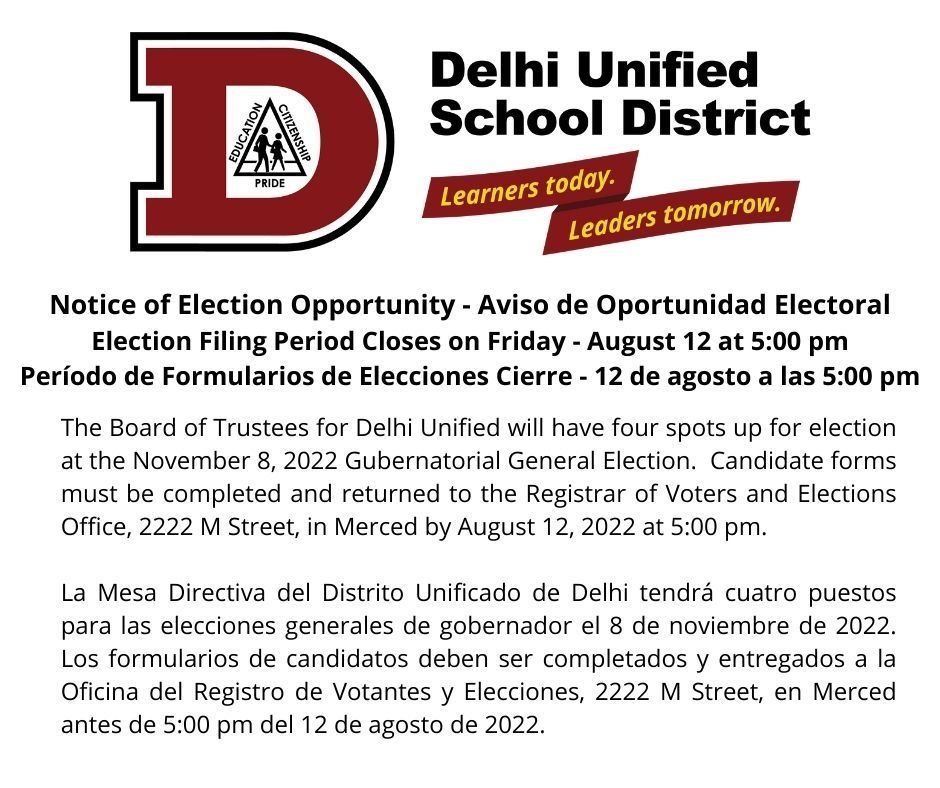 Join us in person for Delhi Unified's Regular Board Meeting on Tuesday, August 9, 2022 at 7:00 pm at the Delhi Educational Park Theater.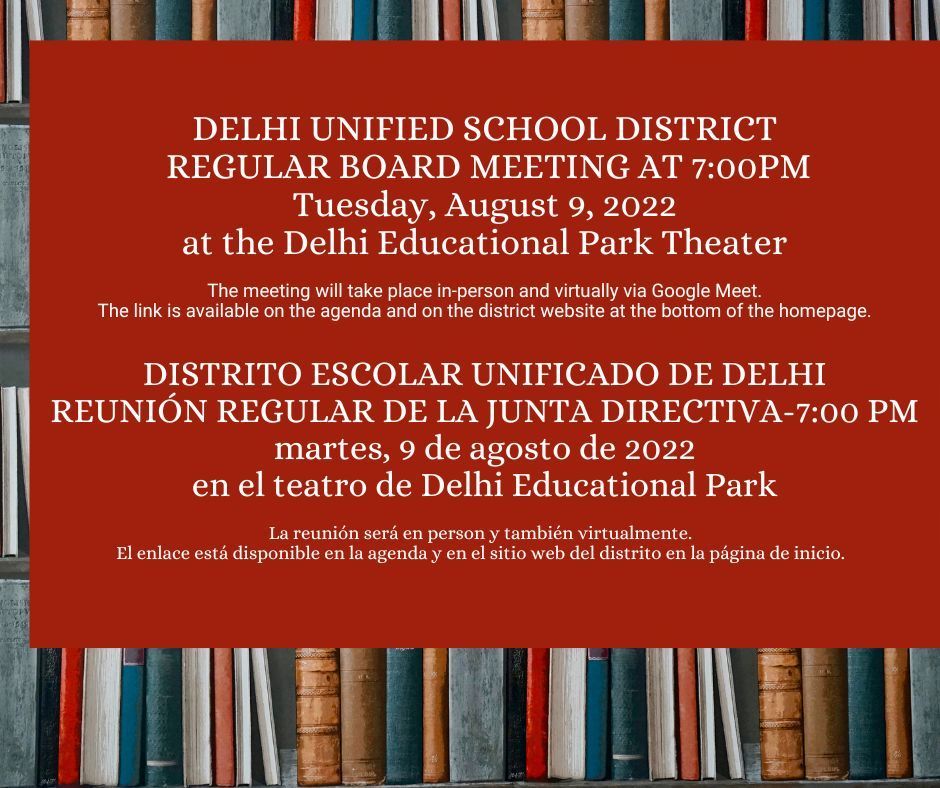 Dear Delhi Community, I acknowledge and affirm the Board of Trustees' mission to equitably educate the whole child so that every student graduates with the tools to reach their full potential. In doing so, we will bring DUSD to be known as the premier district in all of Merced County. Delhi Unified School District will be known as the diamond in Merced County where every child shall have equitable opportunities and equal access to a quality personalized education in a nurturing and safe environment. Our mission will center around the Delhi ABC's: Academics: We will engage and challenge all students in authentic, rigorous, and culturally relevant learning experiences that foster innovation and critical thinking. Best Place to Work: We will cultivate a premier workforce by prioritizing adult value, learning and innovation. Culture and Climate: We will foster an active partnership between schools, families, and the community that mutually supports the advancement, success, and well-being of our students. I personally believe in the promise of equity and apply this belief to my professional life. This includes addressing achievement gaps, which entails establishing a meaningful structure for wraparound support in service of children's social, emotional, academic, and health outcomes. It also involves establishing and maintaining systems that facilitate personalized approaches to meeting the needs of each individual child, from students with disabilities, to gifted and talented students, to English Language Learners. I believe in each and every one of the multi-faceted and multi-talented members of the Delhi community, and I am confident that we will continue to build our capacity to support our learning journey with talented and dynamic current and future staff. Delhi parents, students, teachers and staff: We LOVE you. We VALUE you. We WANT and NEED you HERE! -Jose Miguel Kubes Superintendent Delhi Unified School DIstrict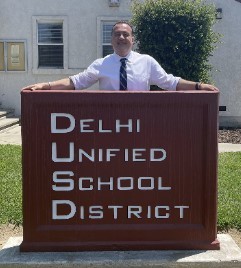 The Fourth of July fireworks sales are typically the biggest fundraisers of the year for most youth sports groups. Delhi High's football program will sell safe-and-sane fireworks in their booth at the corner of Schendel and Shanks. The booth will be open from June 28th - July 4th.

Congratulations Delhi High Class of 2022! Graduation is June 3, 2022 at 7:30PM at the football stadium. Gates open at 5:45 PM. Tickets and security check are required to enter. Friends and family unable to attend can watch live on Youtube:
https://youtu.be/ghwEyZ3tzDs

Congratulations Delhi Middle Class of 2022! Promotion is June 2, 2022 at 7:30PM at the football stadium. Gates open at 5:45 PM. Tickets and security check are required to enter. Friends and family unable to attend can watch live on Youtube:
https://youtu.be/n9nkBvtX0xM

The Board of Trustees Congratulated the Delhi Hawks on their great accomplishments this winter sports season. We are very proud of the dedication these athletes have put in to their sport and academics. Keep up the great work. Go Hawks! 2022 Blue Banner Soccer Champs and Wrestling State Qualifier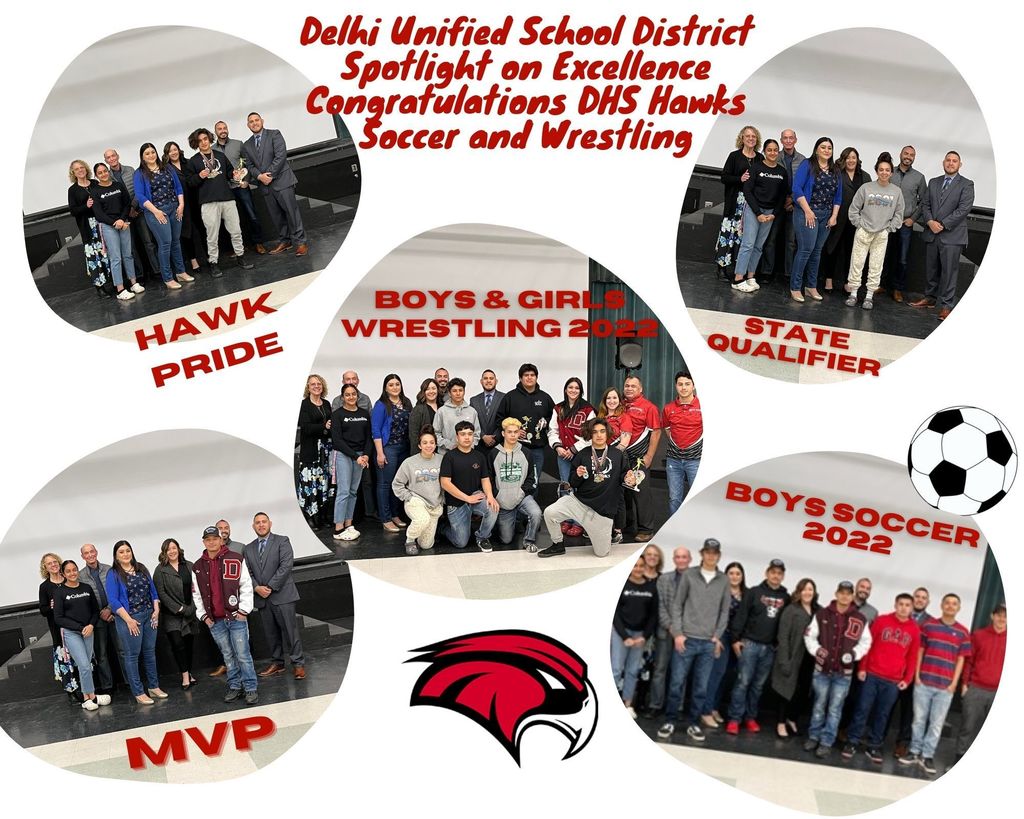 Delhi TK Parent Information Night Today, February 16 at 6pm Schendel Cafeteria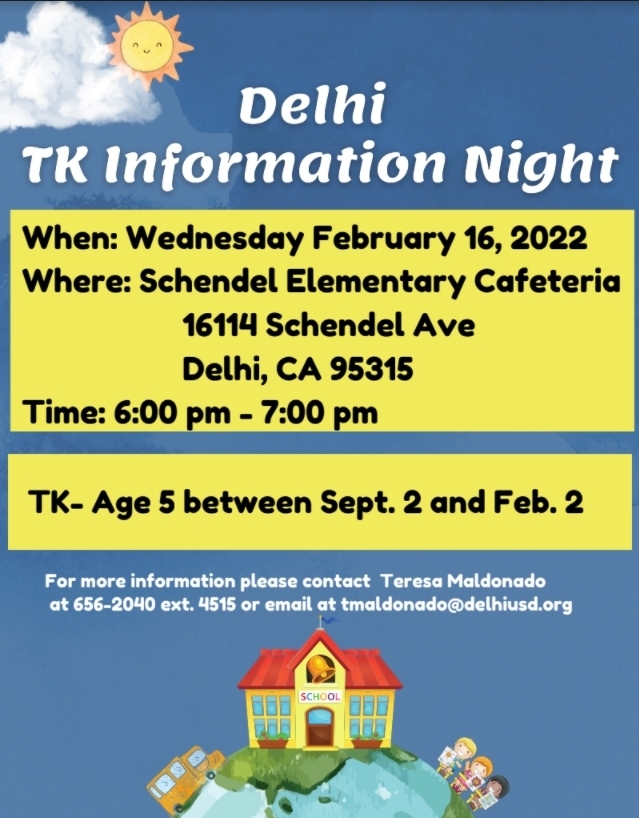 Good morning El Capitan Elementary Families, El Capitan team members will be recording and presenting the Christmas Program live. Families can log in and watch the El Capitan Elementary Christmas Program via this google meet link:
https://meet.google.com/azt-sryu-exu
Thank you, Dr. Cano, Principal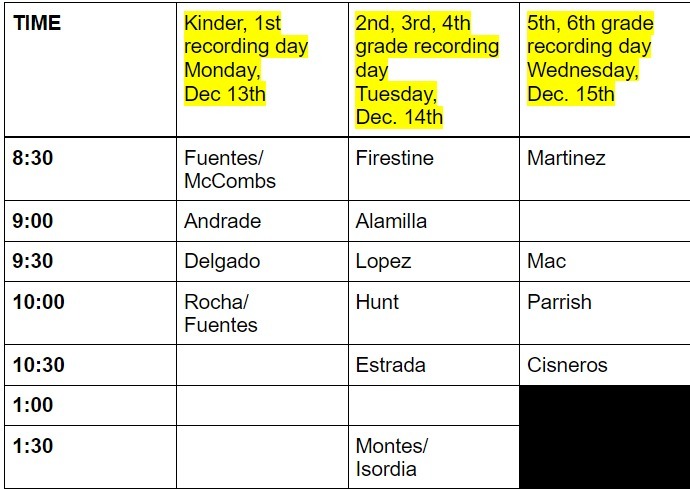 Great news, we have received 3,500 home Covid-19 test kits to distribute to the community. The kits are given out free, and no personal information is required. Instructions for kit use will be given out with the kits. These kits can be given to any Merced county residents. Distribution will be at Ed Park and El Capitan Elementary from Tuesday through Thursday. See the attached flyer for details on time. Delhi Ed Park (Middle School/High School campus) Tuesday, Dec. 14, 1:00pm - 4:00pm Wednesday, Dec. 15, 1:00pm - 6:00pm Thursday, Dec. 16, 1:00pm - 4:00pm El Capitan Elementary School Tuesday, Dec. 14, 1:00pm - 4:00pm Wednesday, Dec. 15, 1:00pm - 4:00pm Thursday, Dec. 16, 1:00pm - 4:00pm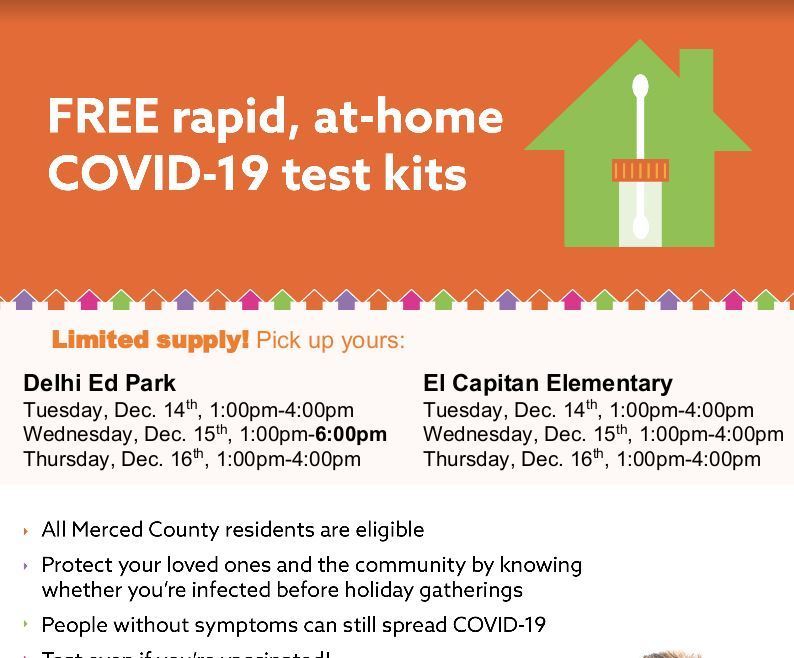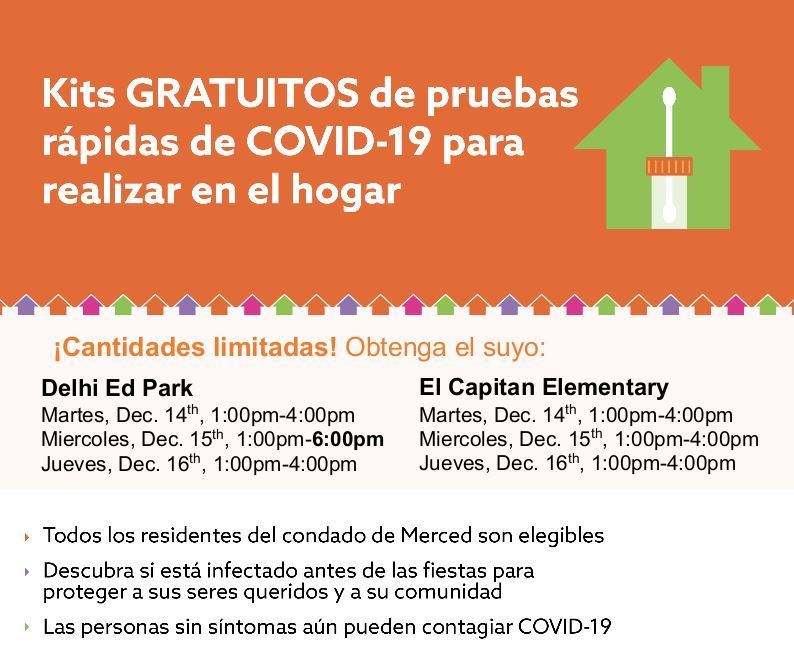 Thank you Delhi Food Service for sharing. Here is a picture of today's lunch at our favorite Station - Chicken Pozole with all the fixings' and sides, Diced onions, Radishes, and lemon's wedges, and shredded cabbage all for students at Delhi Middle School and Delhi High School to select.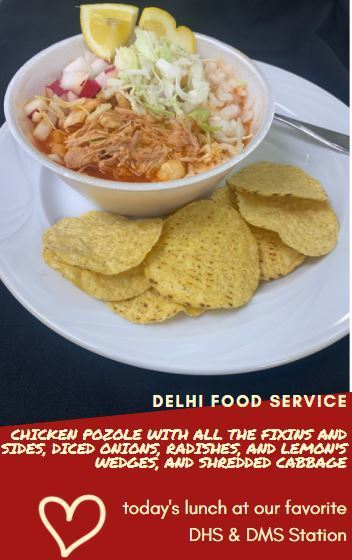 Just in time for the Winter Break, State Superintendent Tony Thurmond is giving the Gift of Literacy to all California Students and Families by giving them free access to thousands of digital books and reading materials through January 31, 2022. Please check out
https://www.myon.com/index.html
for this wonderful opportunity. Login for free access until 01/31/2022: o School Name: Gift of Literacy o Username: myon o Password: read Any California student can benefit from 24-hour access to thousands of myON books in English and Spanish until January 31, 2022. Students can easily browse or search the digital library to find books to match their interests and grade level. There are also options for students to read books online or offline.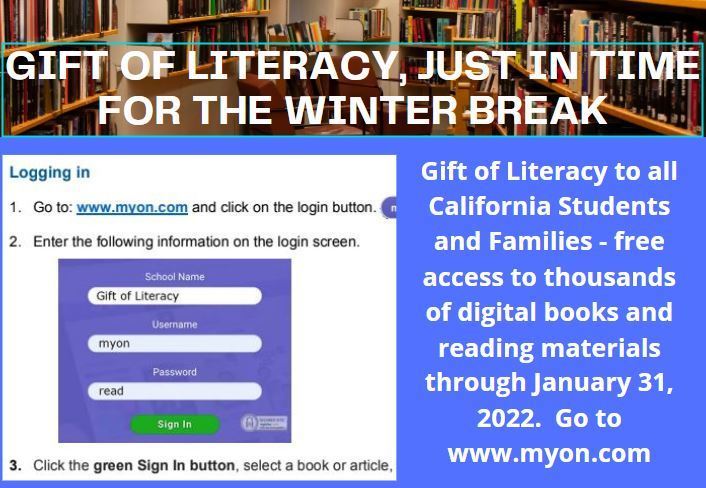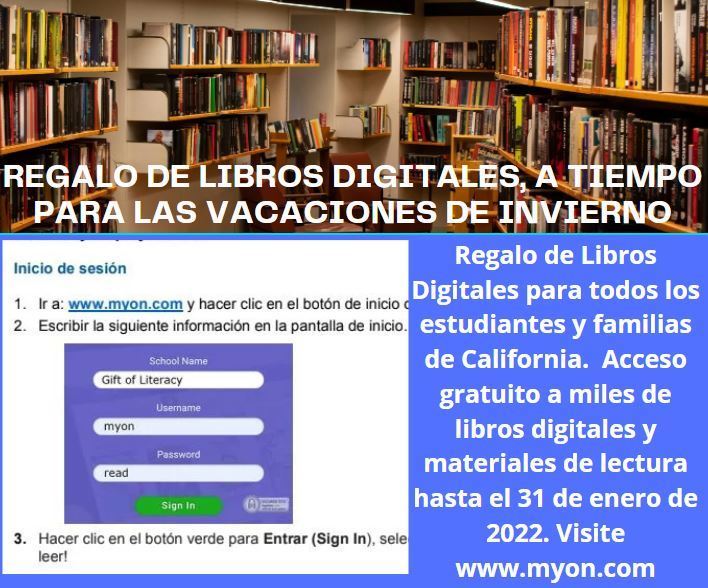 Delhi Food Service takes pride in serving our students delicious meals everyday. Delhi Middle School and Delhi High School have multiple options to select from during lunch. Here is a snapshot of what our staff in food service have prepared this month.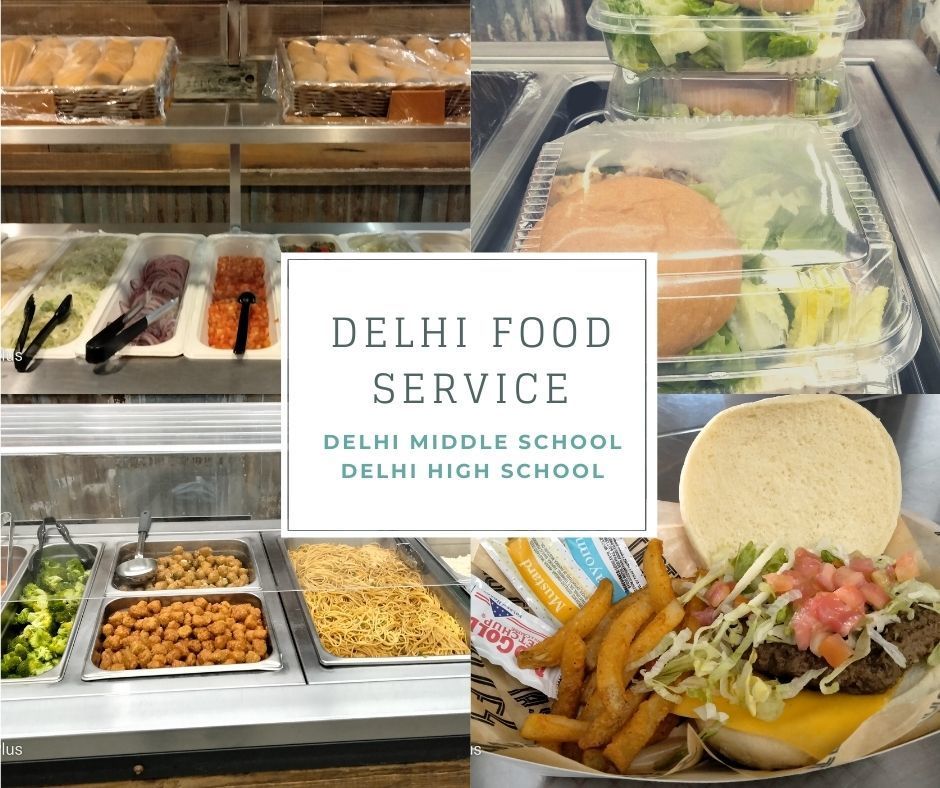 Please help us in welcoming Adrian Hurtado to the Delhi Nursing Team! Nurse Adrian comes to us with a background in school nursing. He and Nurse Marsh will be working collaboratively, along with our health clerks, to achieve the optimal health services for our students and their families. Nurse Adrian will be working primarily with El Capitan Elementary, Harmony Elementary, and Schendel Elementary. Nurse Marsh will be primarily working with Delhi Middle School, Delhi High School and the preschool age students. Thank you to everyone on the health team for all you do.